May 2005
Dear all --
Well, first of all -- I DID NOT SELL MY BUSINESS !!!!! I am amazed at how many people think it is already sold - a done deal. WRONG !! Selling is something I would consider, and I thought I would just throw the idea out there in last year's letter. However, that is a far cry from actively looking for a buyer, which I'm not doing. I'm also amazed at how many people contacted me and said: Liza, you can't do that !! We won't come again if you're not running it !! It's a great show of support, and I really do appreciate it. I love living in two countries. The kids do too, and I can't imagine giving that up. Everyone tells me the back and forth will be more difficult as they get older. I suppose that may be true. But, as always, we'll cross that bridge when we get to it.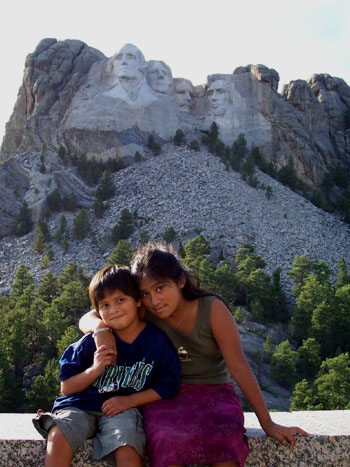 We had a pretty good 2004. Not as stellar as 2003, but good. Still tons of return folks, many of whom are looking for a new experience (for their 4th or 5th time around), so I'm developing new places to visit, like Xela, more time exploring the lake villages and the Ixchel Triangle. Watch for it !! Most of the enclosed schedule, tho, is familiar. With a few new additions. We now offer a yoga class, which I've wanted to do for years. The instructor, Ginger Hooven, owns Cafe Condesa and recently moved to California to teach at Mt Madonna yoga center. She is a great teacher (I used to take her classes in Antigua) so come join us this summer !!! It's a great way for educators to experience a new culture while working off some of that classroom stress!!!
Speaking of educators, I'm working on ways to provide in-depth cultural, art and life experiences that will help educators return to their fall classrooms recharged and inspired. Especially those who work with our ever-growing Latino populations. There is nothing more important than good teachers !!! If you have any brilliant ideas as to what I should offer, let me know.
Also new is that I'd like to provide this experience to already established groups, not just those signing up for our workshops. People have contacted me over the years and I've always said no. But now I'd like to make all these years of experience and contacts available to other groups. For example, our fall weave tour is offered in conjunction with a museum/gallery. Or, it could be one of you with a book club, church group, or just friends you'd like to share Guatemala with. He or she who does the work of putting together the people, gets the free trip. Sounds like a deal worth thinking about!!
My kids are doing well. That Tommy boy has actually slowed down a bit. It might be the flax seed oil and fish oil we all started taking last year. Joey is more organized and actually does her homework without a fight (most of the time)!!! These are huge strides.
So, once again, we send our best regards and warm thoughts to all of you who have joined us, and become friends, over these past ten years. I hope you have a wonderful, creative summer, in all you do que le vaya bien. Come see us again in Guatemala !!
Abracos grande de Liza, Jessenia and Tommy boy,
Karen Searle and I are finally developing a lakes villages weaving tour. After the original, and then the sequel, enough folks have said: if you put together a lakes villages weaving tour, i'll come !! So, hopefully you'll be seeing more about it soon.